The
Fine Artist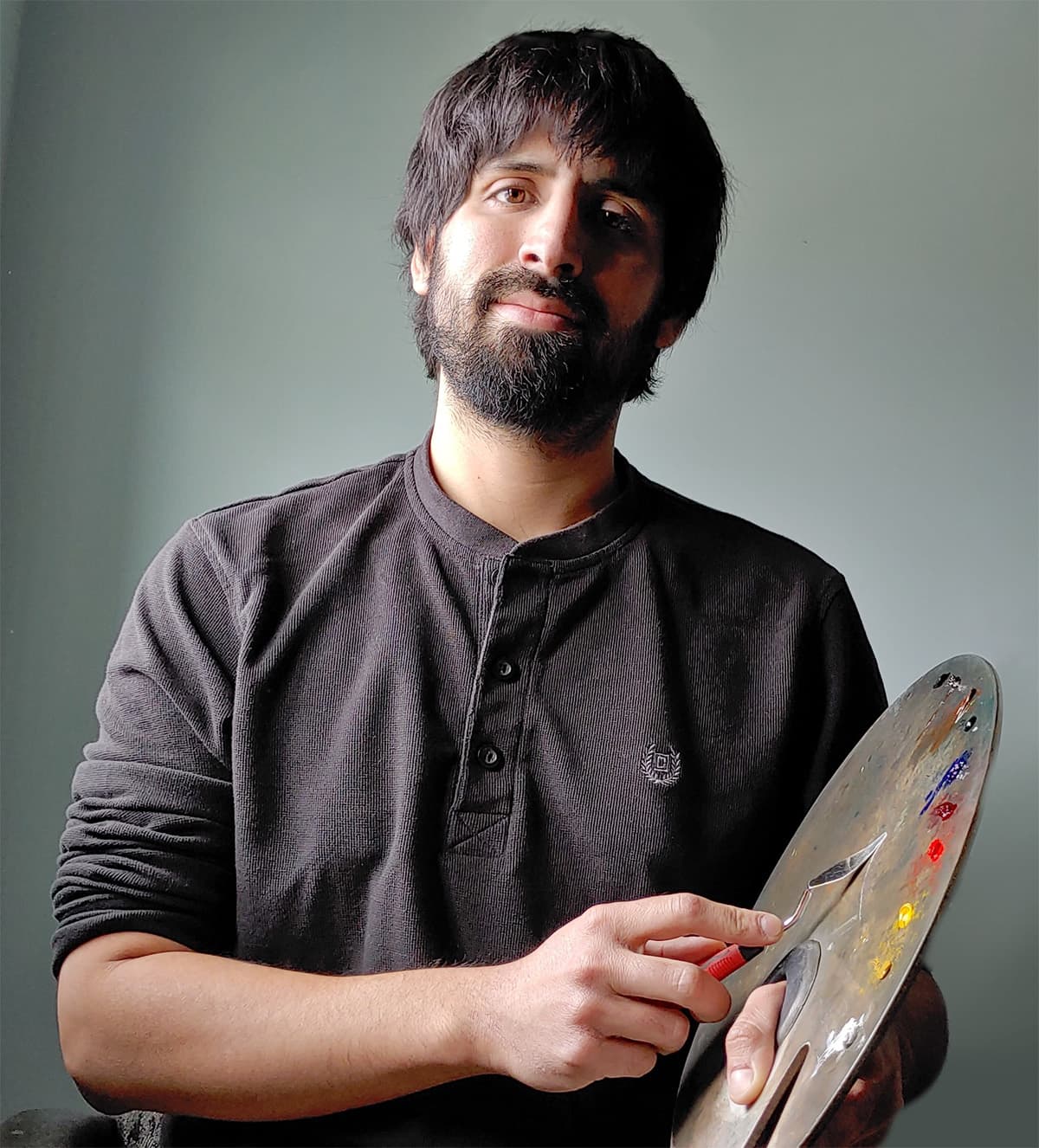 Alex Jove
1988


Alex Jove is a contemporary, realist artist. Alex was raised in Arnold, MO and is now a Saint Louis resident.
Alex has always had an appreciation for art, and was inspired as a child by his father, Gonz Jove, to pursue the path of the artist. Early inspirations came from surrealism to eventually appreciating European art movements like impressionism, romanticism, and neoclassicalism. Artists like Degas, Manet, Tintoreto, Rodin, Van Gogh, Zdzisław Beksiński, Dali, and many others he saw in his favorite art books were huge inspirations for Alex in his earlier years.
In 2012, Alex moved to Bolivia to study with his father, who was, at the time, working on many murals that are on display all over La Paz today. Living in Bolivia and working with his father was the beginning of a transformative time for Alex. While learning with his father, Alex acquired many skills that laid a foundation of how he will continue to develop as an artist and approach his creative process. During this time, Alex became interested in formal training and sought a specialized education that only ateliers can offer. This led Alex to apply and eventually attend Ani Art Academy.
In 2015, Alex was accepted into Ani Art Academy and began his education with Anthony Waichulis. The curriculum from Ani Art Academy was the type of structure Alex was seeking. Alex produced many works while attending the school, and gained a deep understanding of communication through value, shape, form, chroma, and color. The school came with many other benefits as well in regards to professionalism and the art world. With this knowledge acquired through Ani Art Academy, Alex now had the foundation to begin his pursuit of a career in art.
Alex graduated from Ani Art Academy in late 2018 and returned home to Saint Louis. Since returning home, Alex has been continuing to work on his art and develop his style.
In late 2022, Alex decided to step back from art. It is a calculated move to address the burnout he was facing while also seeking to gain new skills and knowledge, unrelated to art. Though things have been silent from Alex during 2023, his passion for art still burns. Alex is exploring the web developer world, but yearns to return full time to art.
Socials
Exhibitions
2022
-Modern Male III | Bowersock Gallery | Provincetown, MA
-Visions of the American Landscape | STL Artist Guild | Saint Louis, MO
2021
-Radical Botanicals | Lovetts Gallery | Tulsa, OK
2020
-Eclectica | Ani Art Academies America | Red Bank, NJ
2019
-Enigma | Lovetts Gallery | Tulsa, OK
-Modern Male | Bowersock Gallery | Provincetown, MA
2018
-Imagine | Rehs Contemporary Gallery Inc. | NYC, NY
2017
-Capturing Realism | Misericordia University | Dallas, PA
2016
-Cauldron Exhibit | Lovetts Gallery | Tulsa, OK
-Friends: Passed & Present| Haven SBX | Bronx, NY
-From Near & Far | AFA Gallery | Scranton, PA
-Synesthesia | Rehs Contemporary Gallery Inc. | NYC, NY
Achievements
2017
-Award of Distinction | Aní Art Academy